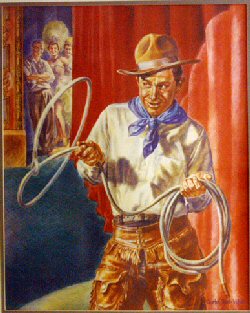 We spend four important years of our life at Will Rogers High School. But how many of us know the man behind the name? Well, let's find out who this man really is. Born on November 4, 1879, Will Rogers was more than a man, he was a legend. William Penn Adair Rogers was the youngest of eight children born to Clement Vann Rogers and Mary Schrimsher, who were both partly of Cherokee descent, in what is now known as Oologah, Oklahoma, which is located just north east of Tulsa. This made Will Rogers an Indian and a Cowboy. Four of the 8 children born to Clement and Mary died before reaching adulthood and one of them would go on to be the most famous man in the world.

In November of 1908, at the age of 29, Will Rogers married Betty Blake, who he had been friends with for the last 8 years. They remained married for 26 years, until his death in August of 1935. Will Rogers died in Point Barrow, Alaska in an airplane crash. He died along side his friend Wiley Post while attempting to take off from a tidal lagoon. Wiley Post was one of the most famous aviators in the world at the time, who just a few years earlier had flown around the world in 8 days. Most experts now believe that the crash was due to a combination of miscalculations in the design and operation of the heavily customized aircraft, which resulted in the uncontrollable spin that occurred right after take off.
Will and Betty had 4 children. Their eldest son Will Rogers Jr. was born on October 20, 1911 in New York City and died in 1993. After more than a year long and painful battle with heart disease, a series of strokes and a hip implant surgery, he finally ended the pain and suffering when he took his own life, just a few months before his 82 birthday.

Will Roger's daughter, Mary Amelia was 22 when her father died. An actress playing in summer stock in Maine when she hear of his death, she also went on to live a long life, dying at the age of 76.

James Blake Rogers, or Jim to his friends and family was with his cousin when he found out about the accident that took his father's life. They were in the car, driving to New England to watch Mary perform. Jim had several jobs including a cow puncher in West Texas a newsman, acting and a successful rancher before retiring to his home in Bakersfield, California. Jim died on April 28, 2000 at the age of 84. He was laid to rest with his mother and father in Claremore.

Will's youngest child Fred Stone was born on July 15th, 1918 and died in 1920 of diphtheria as an infant.

With the exception of Fred, all of Will's children lived a long and happy life, despite the fame thrust upon them. They were really one of the first famous familes in the United States because at the time Will Rogers lived, there was nobody more famous than he was. His children even went on to expand the family tree by many generations. In time, after the death of Will Rogers the media attention went away and for the most part they were able to live a semi normal life.

The Will Rogers Family tomb is the resting place of Will Rogers, his wife Betty, and three of their four children, Fred Stone Rogers, Mary Amelia Rogers Brooks, and James Blake Rogers, and his wife, Marguerite Astrea Kemmler Rogers.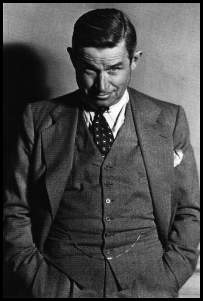 Will Rogers seems to have been born restless. In 10th grade he left school to work as a cowboy. Before he was 20, he'd traveled around the globe. In 1902 he landed in South Africa. Later, he joined the circus, visiting Australia and New Zealand. He earned his way performing rope tricks of which he learned from a freed slave, which was used as a tool to work Texas Longhorn cattle on his family ranch.
His quick wit and rugged, down home talk made him a hit all over the world. He was good natured, gentle and wise beyond his years. Before long he found himself in Chicago appearing on the vaudeville stage. In 1908 he married the love of his life and by 1916 he was appearing nightly in the Ziegfeld Follies. By 1918 he'd starred in the first of seventy movies. And by 1919 he'd published two books and a third came in 1924.
In 1922 he began a syndicated newspaper column, a column which continued the rest of his life. He was one of our first radio commentators. He was a born entertainer who laughed along with us. He once said, "I've joked about every prominent man of my time, but I never met a man I didn't like." At first he did not feel comfortable with the medium of radio. Nevertheless, he did seventy-five radio programs between 1927 and 1935. His radio appearances increased after 1930, when he did fourteen programs sponsored by E. R. Squibb. A longer but more sporadic series was sponsored by the Gulf Oil Corporation between 1933 and 1935. In time, Rogers became one of the most popular radio entertainers in the country; as early as 1930, he was receiving $350 per minute for his radio performances.
He was fascinated by air travel and flew as often as he could. He was the world's first "Frequent Flyer" and would even take flights on mail carriers. By 1930 he was world renowned, well travelled and family man with four loving children.
He'd been the featured speaker at both the Democratic and Republican National Conventions. He was quoted as often as the president. He raised thousands of dollars for charities. He served as an unofficial mayor of Beverly Hills before the position had been officially created and was a candidate for president in the 1932 election.
Although not a poor man by any means and coming from a family of wealth and power, he was still a hard worker and when the need arose, he sided with the poor, the destitute and the underprivileged. At the height of the Great Depression, he inspired us, reminding America he was on our side.
A year before his death, Will Rogers hosted the 6th annual Academy Awards which were held on March 16, 1934 at the Ambassador Hotel in Los Angeles, California. Not only was he the host but he also presented all of the awards.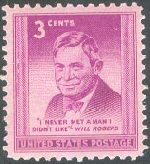 In 1935 his life was cut short when he died at the age of 55, along side his friend and fellow Oklahoma native, Wiley Post. His death was mourned by the entire world. He was a cultural and political icon. He was Oklahoma's native son. A down-to-earth, gum-chewin' philosopher who was loved and respected by almost everyone.
There are several buildings in Oklahoma that now honor the man with his name including Will Rogers High School in Tulsa, Will Rogers elementary school in Edmond, Will Rogers Elementary in Ardmore, Will Rogers Middle School in Miami, Will Rogers airport in Tulsa, the Will Rogers turnpike, the Will Rogers animal clinic in Oologah and the Will Rogers Library in Claremore. Other states honor him as well. In California there is the Will Rogers National Park and the Will Rogers State Beach, as well as a memorial statue or two or three or 20. Where he died in Alaska, you will find a memorial statue as well as a "Will Rogers Shrine of the Sun" on the side of Cheyenne Mountain in Colorado Springs, CO. In 1948, they government even issued a $.03 stamp to honor him. In July of 1966 the government commissioned the USS Will Rogers, a 425' nuclear powered ship built for the US Navy.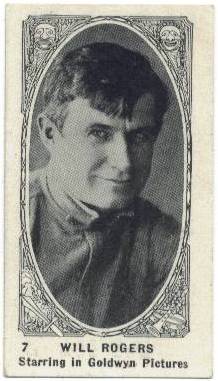 Will Rogers was a full blown celebrity, not unlike the mega stars we have today ... but even bigger considering his time. It was estimated that at the time of his death in 1935, Will Rogers was making one million dollars a year just from his performances in motion pictures, a sum then unsurpassed by any screen personality.
But Will Rogers was more than just a movie star, he appeared in newspapers, on the radio and even in advertisements. Here is an image of him advertising the Strollers brand of cigarettes (see left). He was a comedian, a conservative, a cowboy, an indian, a politician and a political satirist. He loved adventure and he worshipped his wife. He was a visionary and a country boy. He was more than a man, Will Rogers was a true legend.
Will Rogers still has 16 direct descendants alive today, including 3 grand children, 8 great grand children and 5 great great grandchildren. You can learn more about them in the "Will's Family" section of this site.
:: WILL'S FAMILY :: WILL'S DEATH ::
:: GO BACK ::