The Family of Will Rogers
Clement Vann Rogers was born on January 11, 1839 and died on October 28, 1911. He married Mary America Schrimsher, who was born on October 9, 1839 and died on May 28, 1890. Together they had 5 daughters and 3 sons but only 4 reached adulthood. Clement and Mary had a sprawling frontier ranch (The Dog Iron Ranch) in the Cooweescoowee District of the Cherokee Nation near what later would become Oologah, Oklahoma. As you can see by the image below, they were well off for a family of their time. Will's mother descended from a Cherokee chief and was known as a women of modern society, well versed in music, literature, etiquette and good humor. Will's father was a Cherokee senator and a judge who helped to write the Oklahoma Constitution. He was successful in agriculture and banking. He went on to found a ranch fenced by rivers, spread across miles and home to thousands of Texas Longhorns. The place where Will Rogers would be born was known as "the White House on the Verdigris River" back then and was more than just a home. It was also a meeting place for commerce, government and community social events, including funerals, parties, weddings and christenings.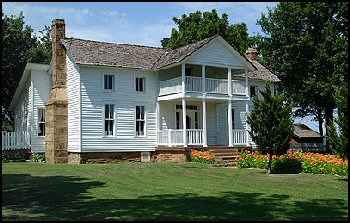 Their first child was Elizabeth Rogers who was born on September 11, 1861 and died two years later in December of 1863. Their second child was another daughter and her name was Sallie Clementine. On April 15, 1866 they had their first son who was named Robert Martin Rogers. He died just two days before his 17th birthday. Clement and Mary went on to have two more daughters Maude Ethel and May. On May 31, 1876 they had Zoe who died at birth. Only July 1, 1878 Homar was born but died two months later on September 25, 1878.
In the log cabin portion of their house Clement and Mary's eigth child was born. William Penn Adair Rogers, was born November 4, 1879, and was named in honor of the distinguished Cherokee statesman, William Penn Adair. Will Rogers was nine thirty-seconds (9/32) Cherokee Indian and became number 11,384 on the Cherokee Nation rolls and a member of the Paint Clan.
By the time Will was born, his only surviving siblings were Sallie who was 16, Robert who was 12, Maude who was 10 and May who was 6.
:: GO BACK ::