Mary Amelia Rogers


Very little is known about Will's daughter Mary Amelia who was born at her grandmother Blake's home in Rogers Arkansas on May 18, 1913. Others have speculated that Mary Amelia was named in part after Will's mother, Mary America Schrimsher and partly after Amelia Earhart. Will's deep love and passion for flying was well known so it's not to far of a stretch to believe that story. However the problem with that story, is that Amelia Earhart didn't start flying until after Mary was already born. So what is the truth about Mary? It turns out that Mary Amelia was named after both of her grandmother's. Her mother and father's mothers. Mary America Schrimsher (Rogers) and Amelia J. Blake (Crowder).
At first glance one would assume she's your typical rich little daddy's girl, who will grow up to live a traditional debutante life. As evident in the picture to the right and many others often shown of the family, Mary and her father were very close. By all found accounts, she was a daddy's little girl. In fact, the last thing Will Rogers did before taking off for the last leg of his fatal flight was to hand Joe Crosson a telegram to his daughter Mary, who at the time was acting in Maine. Mary's mother and aunt were in Maine with her when they got the news of her father's death, not to long after the telegram Will had sent his daughter had arrived. The telegram read "Great Trip. Wish you were all along. How's your acting? You and Mama wire me all the news to Nome. Going to Point Barrow today. Furthest point on land on whole American continent. Lots of Love, Don't Worry, Dad"
Mary attended an exclusive all girls school called Marlborough, which is located in Beverly Hills, where she graduated in 1931. Marlborough is the oldest independent girls' school in Southern California, founded in the late 1880's and some would say just as exclusive to this day. The tuition for the 2005-2006 school year is more than $25,000. *Updated: Tuition for the 2014-2015 school year is $35,050.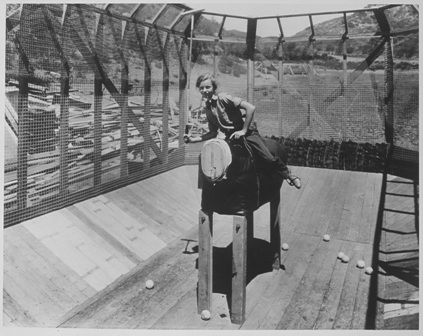 Photo of Mary Rogers in 1928 practicing in a training cage
Mary also studied drama at Sarah Lawrence College in Bronxville, New York, and became an accomplished actress in her own right. She worked steadily from 1933 to 1942. She performed both under the name Mary Howard and Mary Rogers. In the 9 years she worked as an actress she performed in a total of 30 small rolls, never really gaining large scale fame as an actress. Unless otherwise specified, all of these rolls she performed under the name Mary Howard.
The Loves of Edgar Allan Poe (1942) .... Frances Allan
Thru Different Eyes (1942) .... Constance Gardner
Who Is Hope Schuyler? (1942) .... Diane Rossiter
Swamp Water (1941) .... Hannah ... aka The Man Who Came Back (UK)
The Riders of the Purple Sage (1941) .... Jane Withersteen
Billy the Kid (1941) .... Edith Keating
The Wild Man of Borneo (1941) .... Mary Thompson
Abe Lincoln in Illinois (1940) (as Mary Howard) .... Ann Rutledge ... aka Spirit of the People (UK)
Nurse Edith Cavell (1939) .... Nurse O'Brien
Somewhat Secret (1939) .... Assistant Dean Emily Godsall
Love on Tap (1939) .... Penny
Four Girls in White (1939) .... Mary Forbes
Sweethearts (1938) (uncredited) .... Chorus Girl
Love Finds Andy Hardy (1938) .... Mrs. Mary Tompkins
The Shopworn Angel (1938) (uncredited) .... Chorus girl
Marie Antoinette (1938) (uncredited) .... Olivia
Fast Company (1938) .... Leah Brockler ... aka The Rare-Book Murder (USA: TV title)
Hold That Kiss (1938) (uncredited) .... Nurse in Moving Picture
That Mothers Might Live (1938) (uncredited) .... Young Stricken Mother
Test Pilot (1938) (uncredited) .... Movie Leading Lady
The Face Behind the Mask (1938) .... La Vallière, The King's Sweetheart
Paradise for Three (1938) (uncredited) .... Showering Woman ... aka Romance for Three (UK)
What Do You Think? (Number Three) (1938) (uncredited) .... Mary Dosier
Man-Proof (1938) (uncredited) .... First Girl
All Over Town (1937) .... Joan Eldridge
Song of Revolt (1937) (uncredited) .... Pianist
Bars and Stripes (1937) (uncredited) .... Sales Clerk
Torture Money (1937) (uncredited) .... Nurse Barry ... aka A Crime Does Not Pay Subject: Torture Money (USA: series title)
The Great Ziegfeld (1936) (uncredited) .... Miss Carlisle
On to Fortune (1935) (as Mary Rogers) ... Broadway play (8 total performances) ... Anne
Crime Marches On (1935) (as Mary Rogers) ... Broadway play (45 total performances) ... Phyllis
My Weakness (1933) (as Mary Rogers) .... Diana Griffith
Mary lived in various places throughout her life, even in Europe but she returned California late in her life where she died in Santa Monica in 1989 at the age of 76 from complications associated with cancer. At the time of her death, the New York Times only credited Mary with her 1933 movie ''My Weakness'' and her two broadway performances.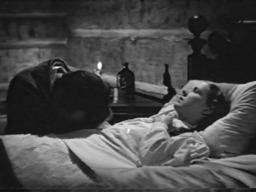 This image comes from Mary's movie "Abe Lincoln in Illinois", where Mary dies of a fever with Raymond Massey by her bedside. Mary did this movie in 1940 under the name Mary Howard. The movie is said to be a historically inaccurate biopic.

Mary Amelia didn't marry until she was 37 years old and got married in Las Vegas of all places. It was on September 18, 1950 that Mary married Walter Booth Brooks the III in Las Vegas, Nevada.
Back in 1950 Las Vegas was anything but glamorous. Gambling had just been legalized for just under 20 years at this point and it really was still a tent sort of town sprouted with saloons, dark, smoky casinos, some stores and small motels and boarding houses. In short, Vegas was an old west style party town, and this is where Will's only daughter said "I Do".
Mary's life was right out of lifestyles of the rich and famous and her husband's family had a fascinating story all their own. Walter Booth Brooks III is the son of Walter Brooks, a seemingly wealthy man from England and Louise Cromwell (Henrietta Louise Cromwell Brooks). Louise Cromwell was a wealthy heiress and well known flapper (a wealthy party girl or what we would call today, a socialite). She was the stepdaughter of Edward T. Stotesbury, a very well off partner at J.P. Morgan & Co. Her brother James H.R. Cromwell was the husband of Doris Duke. After her marriage to Walter brooks she was married to General Douglas MacArthur (1922-1929). A few years later she married actor Lionel Atwill who was also an infamous partier during his time. It was once said that if there was a vivacious scandal erupting, you can bet Louise Cromwell's name was somehow associated with it. By 1952, just 1 1/2 years after their marriage began, Mary Amelia divorced Walter Booth Brooks III, stating that Walter was belligerently drunk at least twice a week. Despite their short lived and rocky marriage, Mary Amelia kept his name until her death. She was to be known as Mary Amelia Rogers Brooks.
What I get from the very limited information about her is that at first she was young and rich. She went to the best schools and wanted to follow in the footsteps of her father. When her father died she was performing on stage and seemed to stopped acting after his death. She lived in various places, never seeming to settle for any place for to long .... California, New York, Europe are all known residences of Mary.
Some go as far as saying Mary was the Paris Hilton of her day ... young, rich, beautiful and from an extremely well connected family. What we do know is that Mary Amelia Rogers lived through the roaring twenties during her young formative years, the great depression as a wealthy socialite, who's father was more famous than the president, World War II, the industrial revolution and the the sexual revolution. By all accounts she had a full and fascinating life.
Mary Amelia died on December 13, 1989 in Santa Monica, California and was buried at the Will Rogers Museum in Claremore, Oklahoma along with atleats 5 other members of her family, including her mother and father. You can see her gravestone at the Find a Grave website.
:: GO BACK ::