James Blake Rogers
James Blake Rogers, the third child of Will and Betty Rogers lived a long life considering the extremely high child mortality rate and life expectancy of someone born in 1915. James Blake or Jim as he liked to be called lived to be almost 85 years old. He outlived his parents and all of his siblings.
He was born in New York City on July 25, 1915. He was 9/64th Cherokee Indian and on the rolls of the Cherokee Nation. He graduated from Webb high school and went on to attend Pomona College in California. Jim was named for his maternal grandfather.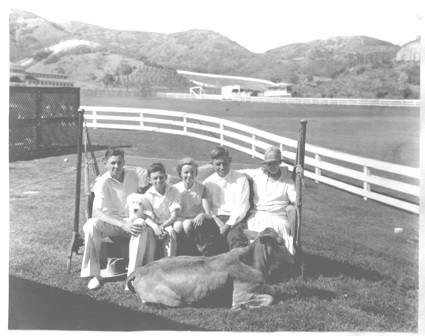 In the 1940's he was the editor and publisher of "The Beverly Hills Citizen" with his brother William Jr. which at the time was a family owned newspaper. The Beverly Hills Citizen still is existence to this day and provides news and views of and from Beverly Hills, California and a guide to local organizations.
Jim Rogers, after a stint as a newsman and motion picture actor, became a successful rancher then moved to active retirement in Bakersfield, California. He was deeply involved in the Will Rogers Memorial Commission of Oklahoma overseeing the Claremore museum and Oologah birthplace. As the family representative on the Will Rogers Memorial Commission in Oklahoma, he oversaw a $6 million effort to renovate the Will Rogers Memorial Museum. He also worked closely with the staff at the Will Rogers Historic Park in Pacific Palisades, CA, which is now a state park. His son Kem succeeded his father on the Will Rogers Memorial Commission of Oklahoma
He served in the U.S. Marines in the latter end of World War II as a writer / correspondent. He appeared in three of Will Rogers' feature films. He also was a cinema cowboy in three Hopalong Cassidy westerns, made U. S. Army training films with Rod Cameron, and costarred with Noah Beery Jr. in "Dudes Are Pretty People," "Calaboose," and "Prairie Chicken," all produced by Hal Roach Jr.
James married Marguerite Astrea Kemmler on March 26, 1938, who went to the same exclusive all girls school, that his sister did, although she also studied in Heidelberg before attending and eventually graduting from Marlborough. Astrea died on November 19, 1987 in Bakersfield, CA. They were married for almost 49 years and had three children. James Kemmler was their first child and he was born on May 3, 1939. Next they had Charles Edward who was born on October 23, 1941 and last but not least they had their beloved daughter Astrea Elizabeth (known as Bette to her friends and family), who was born on October 17, 1943.
About 8 years after his wife died, and at the age of 80, Jim married again. His second wife was Judith (Judy) Braun. They were married on August 31, 1995. Together they operated a riding stable in Bakersfield, California. Little is known of his second wife or their marriage. He died about 5 years after they were married and she still lives at their family ranch. In March of 2003 Judy donated two of their horses to the Will Rogers State Historic Park which is located in Pacific Palisades, CA. This was the 186 acre Will Rogers ranch which was donated to the state of California by the Rogers family in 1944, after the death of Will Rogers' wife, Betty.
:: GO BACK ::