Welcome graduates of Will Rogers High School of Tulsa, Oklahoma. Don't wait for your Reunion! Reconnect with old classmates today. Here you can search for lost classmates, tell others what you have been up to since graduation, chat with old school friends and get reunion information. This site is exclusively for the graduates of Will Rogers High School of Tulsa, Oklahoma.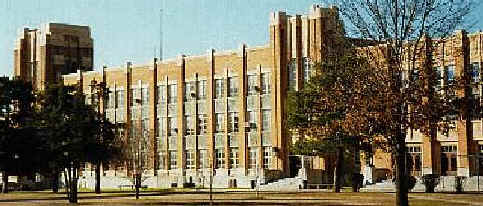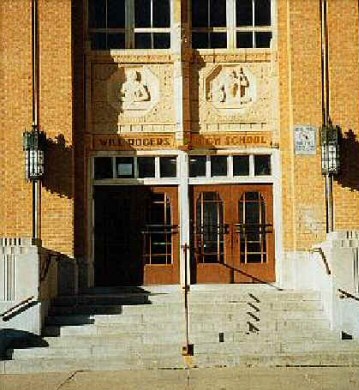 Will Rogers High School was built in 1938. This school was designed by Leon B. Senter and Joseph R. Koberling, Jr. In 1942 Time magazine was doing an article about the high schools of the future, specifically titled "Tomorrow's High School" and Will Rogers High School was included as part of their research. The article stated that Rogers was "a model progressive high school" in "one of the most progressive school systems in the study."

The building itself was an art deco design. The elaborate buff brick school features two large towers at the front corners of a large main block of classrooms. The towers are supported by stepped pilasters with ornate details in terra cotta "capitals". Panels above the double doors feature Will Roger's life in two phases. One depicts his cowboy days with a horse, roped steer, and the prairie, and the other his movie days with a reel camera, airplane, and polo rider.

But a school is more than just a building. It is the students and staff that make up the story and history of a school such as Rogers. The first official school year for Rogers was 1938-1939 during which time they had an estimated 1200 students.

Located in one of the most beautiful buildings in the City of Tulsa, Will Rogers High School opened in 1939 with a student body of 1,501, a staff of 44 teachers and three office personnel. Students were warned to avoid bad cattle grazing in the campus area while traipsing the footpath from 11th Street.
Current School Statistics and General Information
Source: NCES, 2004-2005

Total Students: 1,169
Full Time Teachers: 67
Student/Teacher Ratio: 17 Students : 1 Teacher


Race Distribution

White, not Hispanic 37% (state average 61%)
Black, not Hispanic 31% (state average 11%)
Hispanic 22% (state average 8%)
American Indian/Alaskan Native 9% (state average 19%)
Asian/Pacific Islander <1% (state average 2%)


9th grade: 500
10th grade: 283
11th grade: 211
12th grade: 175